May's READ THIS! Book of the Month and A Whole Lot More!
Happy (Early) Mother's Day
!
Mother's Day is just around the corner, so here's a tip of the hat and tons of love to all the moms, sisters, aunts, cousins, friends, step-moms, adopted moms (both officially and unofficially), grandmas, great-grandmas, and all the guys filling in the mother role -- it's hard work, but we love you for doing it!

We've got another great READ THIS! selection for this month plus more fun stuff, so let's get right to it, shall we? We shall!
READ THIS!
A Book Club by Moi for All Y'all
Welcome to READ THIS! A Book Club by Gini Koch. This is my chance to introduce you to some great authors that I love and know you will, too.

Every month I'll spotlight a book and, even better...every month I'll host a live discussion with the author, that all y'all can join! I know, it's too happy to be true, but true it is!
May 2022 READ THIS! Selection



The READ THIS! Selection for May 2022 is:





The Swans of War




By Catherine Kane
Gini's Take:
The fate of the world is at stake. And, oh yeah, there's a princess and a brave knight who are also in a lot of terrible
danger
. Fortunately, a woman still new to magick and her wiseacre cat are around to (hopefully) save the day. Another fun Morgan and Sam adventure.
About the Author:

Catherine Kane was raised by feral storytellers. She's a writer, professional psychic, bard, metaphysical Christian, New Age chick, and delighted student of the Universe (amongst other things). She brings creativity, an eclectic body of knowledge, and an attitude of fun to empowering people to find and live their best and brightest dreams. Her writing has been seen in magazines such as Thorn, the Door Opener, and Helix. She's currently the author of 11 books with the 12th under way.

Find Catherine on Facebook at Catherine Kane Writes and at her Amazon Author Page page.
May 2022 READ THIS! Author Q&A
So, you've read the READ THIS! selection and you want to share what you thought with the author, hang out with them and Gini, and generally talk books for an hour. Well, guess what? You can!

The third Thursday of every month will be READ THIS! Author Q&A time. The event will be held utilizing Discord, and the invitation to Gini's READ THIS! room will come out in the week prior to the chat.

And that's not all! Near the end of each Q&A session, we'll be doing a raffle and one lucky winner will get a copy of the next month's READ THIS! selection! (You must be present in the Q&A to win. Physical book prizes will be U.S. only. Ebook prizes will be worldwide.)
April's READ THIS! author Q&A with Catherine Kane will be on
Thursday, May 19, 2022
from 9pm-10pm Eastern.
Access to Discord is available worldwide, and everyone is invited to attend!
June's READ THIS! Selection
And Remember: One Lucky Q&A Participant can win it early!



The READ THIS! Selection for June 2022 is:





Mind of the Man-Child



The Lost Children of Earth, Book 1
By G. Russell Gaynor

Because I get asked this daily (often multiple times daily)...

Yes, Aliens Like Us IS coming, but...

No, Aliens Like Us still isn't ready for Prime Time, but...

I'm on Version 5 of the rewrite process. Does every book take me this long? No. Will all the others in the series take this long? Likely no. Life has tossed a lot at me and mine and that's made some things a struggle, but...

Kitty is always with me, and she's not going to let the bad things win, in any universe.

So...Watch this space for more updates as I have them. And keep those digits crossed for the hope that my shouting "the end!" comes sooner as opposed to later.

P.S. I am definitely heading towards the end game. I realize that's vague, but it means that I think we'll be shouting "hurrah" somewhere in the nearish term. Digits crossed, at any rate...
See The Me!
It does seem like I've been a hermit for the past few years, but we have the Virus Troubles to thank for making most of us hermits for far longer than any of us would have liked. However, that's about to end, at least in my case.
Here are the cons I am confirmed to be going to this year. Panels, readings, signings and such to come, but I will definitely be at these places and hope to see some of or all y'all there! (There are other cons I expect to be at where I'm not confirmed yet, so watch this space for updates.)
LibertyCon
Chattanooga, TN
June 17-19, 2022

San Diego Comic-Con
San Diego, CA
July 20-24

GenCon
Indianapolis, IN
August 4-7, 2022

DragonCon
Atlanta, GA
September 1-5, 2022

World Fantasy Con
New Orleans, LA
November 3-6, 2022
It's Pre-Order Time!
I'm in some cool anthologies that are on their way to your ereaders and bookshelves. Don't miss out on snagging one hot off the press, pre-order you copy today!
Featuring "Cannon Fodder" by moi writing as moi
ebooks arriving August 9th, physical books arriving whenever the Gods of Supply Chain allow
Featuring "Little Big Planet" by moi writing as Anita Ensal

ebooks arriving August 1st, physical books arriving whenever the Gods of Supply Chain allow

Featuring "Go Where the Heart Takes You" by moi writing as Anita Ensal
ebook is available now, physical books are up for pre-order.
Featuring "The Darkening" by moi writing as A.E. Stanton
Okay, all versions are available now, but this dropped kind of under the radar, so it's here so you don't miss out on it!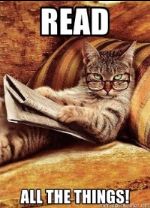 So many bookie wookies, so much time to catch up on all of them while waiting for Aliens Like Us and the next READ THIS! selection. Check out my Bookstore and Bibliography for all the things!
That's it for today but, never fear, another Update, including the Discord Q&A chat invitation, will be arriving in a couple of weeks!

In the meantime, stay safe and healthy, remember we're all in this together, be kind to one another, give love and support to all those who are on the front lines in any capacity, and let's be readers out there. Peace out, my li'l gangstas, and I'll catch you on the flip side!

Love, Gini
Labels: A.E. Stanton, Aliens Like Us, Anita Ensal, Catherine Kane, ConTinual, G. Russell Gaynor, gini koch, Mind of the Man-Child, Predator: Eyes of the Demon, READ THIS! A Book Club by Gini Koch, The Swans of War