Erin Quinn Interview & Giveaway!
Well, as promised, we have a treat today. Awesome author Erin Quinn's joined us to talk about her latest release, "Haunting Warrior". As most of you know, Erin was my first author Spotlight interview. As many of you may not know, she's also been a mentor to me, helping me through the excitement and total chaotic fun that is the release of your first book. (Yeah, in other words, she's heard me whine a LOT …and put up with it, for which I'm sure she deserves some kind of reward.)
But without any further delay (I know, too late!), let's get on with the interview! Erin, welcome to the Blah, Blah, Blah Blog, where the Yap Runneth Over.
Hi Gini! Thanks so much for having me here on your site. You asked some fabulous questions. Hope my answers do them justice.
Oh, they will. They definitely will. So, let's dive right in.
Q.
"Haunting Warrior", which released on May 4th, is the second in your Haunting series. The first book in this series, "Haunting Beauty", dealt with romance, time travel, clairvoyance, and ghosts (in a sense) -- awesome paranormal romance all the way. Is the tone of "Haunting Warrior" different or similar to "Haunting Beauty"?
A.
I would say yes . . . and no. "Haunting Warrior" is much more action oriented than "Haunting Beauty". It's the story of Rory MacGrath and I really torture that poor man. I've got him running for his life and fighting to protect the woman he loves for much of the story. Of course I left ample time for romance and some snooky. As part of the MacGrath family, Rory has his own special powers and must learn to embrace them in "Haunting Warrior".
Awesome! We love the action and the snooky here at Team Gini. So…
Q.
Is "Haunting Warrior" a continuation of Danni and Sean's story, or is it a new set of characters?
A.
New set of characters, although Danni and Sean do make an appearance in the story. Rory is Danni's twin brother. Readers met him in "Haunting Beauty" and learned that the night that changed history for Danni and Sean also altered Rory in ways he has never managed to cope with.
Q.
In "Haunting Beauty", Danni and Sean have to avert a horrible crime in the past in order to actually have a future. What challenges will your hero and heroine in "Haunting Warrior" be facing?
A.
Oh my! That's a loaded question. The night that Rory's father disappeared from the cavern beneath the castle ruins, Rory disappeared too—but only for a few minutes. In "Haunting Warrior", you find out where Rory went and what happened when he was there. Rory has to face his past as well, but not in the same way as Danni and Sean did.
Q.
There's a lot of Irish in your Haunting Series. Was that a nod to your heritage, or just because you love Ireland, and Irish lads, in general?
A.
All of the above. When you're named for a place—Erin/Ireland—it's hard not to feel an affinity for it. The Irish are an incredible people and though physically I may be a mutt, spiritually I will always claim Irish as my heritage.
Q.
What is the string/s that ties your Haunting Series together?
A.
The ancient and mythical Book of Fennore is the common thread through the entire series. Each story digs a little deeper into what it is, how it came to be, what it can do . . . .and how to destroy it . . . .
Cool. I, personally, loved the Book, so I'm glad, in that sense, that it's going to remain a major player. Good evil shouldn't go to waste!
Q.
I liked how you used Celtic language in "Haunting Beauty" -- it was always appropriate and I could also always figure out what the words meant, even if I hadn't seen them before, without your doing a lot of narrative or dialog exposition. How hard, or natural, was that for you to do? And will there be more of that in "Haunting Warrior"?
A.
It's really funny—I have no ear for languages. I can barely speak my own, ha ha. My husband is fluent in two languages and can understand a handful of others but me . . . not so much. However, my writer's ear is very good with them. I can write a dialect I can't speak and probably couldn't understand if I heard it if that's not the craziest thing you ever heard. I don't know how it works, but it does so I take it as a gift.
Q.
I loved "Haunting Beauty" because of the complexity of the situation as well as the characters. What will I love about "Haunting Warrior"?
A.
Rory. Rory. Rory. I loved writing Rory and I still think of him all the time. He was such a wonderful hero to work with. He's special because he has so many issues but he really wants to be the man Saraid (our heroine) needs him to be. Saraid helps him get there and I think the chemistry between the two of them brings the whole story to life.
He sounds hunkalicious. Sean was a total hunk and a half, so can't wait to see what you've done with Rory. Now…
Q.
Some may have already gotten and devoured "Haunting Warrior" by now. For those who haven't grabbed it or read it yet, can you give us a little taste?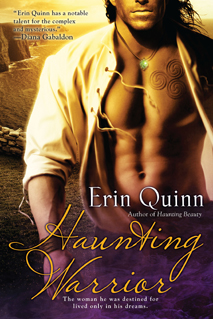 A.
Absolutely! So here's a slice from the scene when Danni and Rory talk of the Book of Fennore. She's just picked him up from the airport -- his first time home since he was sent away as a kid. He's come back for his grandmother's funeral -- a funeral the ghost of his grandmother invited him to attend.
Rory shoved his hands into his pockets, afraid they might shake as they had last night. "Nana came to see me," he said softly.
Danni gave him a sharp look. "When?"
"Night before last." A part of him couldn't believe he was saying it out loud. A part of him wanted to laugh even as he remembered how it felt when he'd realized who was sitting in his car. "When I got off work, she was waiting for me."
Danni made a sharp sound of amusement. "Bet that scared you out of your knickers."
He forced a stiff smile.
"And what did she say?" Danni went on as if they were discussing the price of milk and eggs. "I've died, so come home?"
"Something like that."
"She wanted something, didn't she? She called you home to find the Book. Is that the way of it?"
He shouldn't have been surprised she'd know that detail, too, but he was. Reluctantly, he nodded.
"I can see there's no point in telling you not to do it, but it's dangerous seeking something that shouldn't be found. What did Aunt Edel say when you told her?"
"I didn't tell her. Why would I?"
Danni looked at him in shock. "You mean you don't know?"
"Know what?"
"Edel has used the Book, Rory. Did you never notice her eyes? How queer they are?"
Rory stared at his sister, open-mouthed.
Edel had used the Book? Edel, who he'd lived with until he was old enough to move out on his own?
Suddenly it made so much sense. Suddenly he understood why his parents had sent him to his crazy aunt with her flat, dark eyes. Why she alone had been able to put fear into Rory's heart. They were kindred in more ways than blood.
"Why didn't anyone ever tell me?" he asked, angry.
She shook her head, clearly as surprised as he by this giant hole in his education.
"Who told you?" he demanded.
"I don't know. I've just always known."
If he hadn't hidden himself so far from home, perhaps he would have known, too.
"Rory," Danni said, and something in her voice had changed. He looked at her, found himself staring into those luminous eyes of hers—gray and stormy, like the Irish Sea itself. For one weak moment he'd wanted nothing more than to embrace his sister and tell her how much he'd missed her. How much she meant to him. How sorry he was for hurting her along the way to his liberation. But he didn't move and he didn't speak.
"I have something for you," she said. "In case I don't get the chance to talk to you alone later."
She pulled a small green box from her pocket. He stared at it curiously but made no move to take it.
"Nana wanted you to have this and she knew mum would keep it from you if she could, so she made me promise that I would give it to you."
She thrust the box out to him with a reluctance he couldn't miss.
And suddenly he knew what was inside before he even opened the lid, knew what it meant that Nana had gone to so much trouble to make certain he received it. Knew this was what she'd told him he would need. Slowly he took it from his sister, his big hands dwarfing the tiny box. He hesitated, and then finally he lifted the lid.
Inside, nestled on a piece of cotton, was the pendant.
Whoo hoo! The pendant's back! (Those who've read "Haunting Beauty" will know why I'm excited. Those who haven't should grab a copy. Hmmm…and keep reading…)
Q.
After "Haunting Warrior", what's next and when are they coming?
A.
"Haunting Desire" is slated for March 2011 and "Haunting TBD" for October 2011!
Super, I can't wait! Especially for "Haunting TBD"…I love that title best, I think.
Gini, thanks so much for hosting me here! This was such a fun interview! I would love to give an autographed copy of "Haunting Beauty" away to one of your blog readers!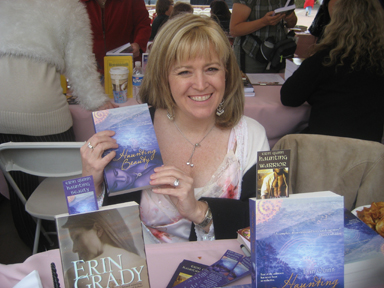 Wicked cool! Okay gang, you're all used to how this works, I know. Leave a comment for Erin here at the Blah, Blah, Blah Blog any time between now and Sunday night. On Monday we'll do a random drawing and one of you will win an autographed copy of "Haunting Beauty". And for the dudes in the Alien Collective -- trust me, your womenfolk will want you to try to win.
Love, Gini
P.S. Check out Erin's blog and website, for more about her Haunting Series.
http://www.erinquinn.info
http://quinnessentials.blogspot.com/
Can't wait to get your hands on "Haunting Warrior"? Order it here.
Amazon:
http://www.amazon.com/exec/obidos/ASIN/0425234142
Barnes&Nobles:
http://search.barnesandnoble.com/booksearch/isbninquiry.asp?ISBN=97804252341
43
Borders:
http://www.borders.com/online/store/TitleDetail?sku=0425234142
Indy bound:
http://www.indiebound.org/book/9780425234143
Labels: Alien Collective, author interview, book excerpt, contest, Erin Quinn, gini koch, Haunting Beauty, Haunting Warrior, Ireland, paranormal romance, Touched by an Alien