It's Here! It's Here!
You thought the cover for "Touched by an Alien" was awesome, and indeed it was. You thought, wow, the cover for "Alien Tango" is even BETTER, and indeed, that's true. But, let me tell you, you ain't seen nothin' yet!
So, with no further delays, let me proudly unveil to you the new, the awesome, the...
ALIEN IN THE FAMILY COVER!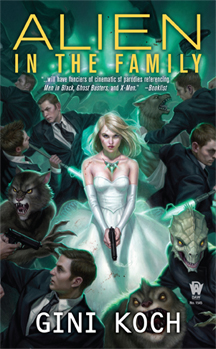 Isn't it BEAUTIFUL? Doesn't it just POP?
Yes, it's true -- Daniel Dos Santos IS the greatest cover artist IN THE WORLD! (And no, I'm not biased at ALL...I mean, LOOK AT IT!)
Off to go gaze lovingly at my new precious...
Oh, for a larger view, check out the Bookstore page!
Love,
Gini
P.S. If you want to show off the awesome cover at your blog, send an email to gini@ginikoch.com, and we'll send you the image along with the reminder to credit the amazing Daniel Dos Santos. And avatars and such will be up on the Free Stuff page very, very soon!
Labels: Alien in the Family, Alien Tango, cover art, Daniel Dos Santos, gini koch, Touched by an Alien